Hole One – Par 4
This Par 4 requires a well-placed tee shot in the middle of the fairway. On your approach shot, avoid missing the green right.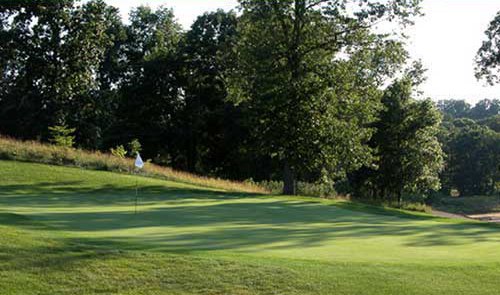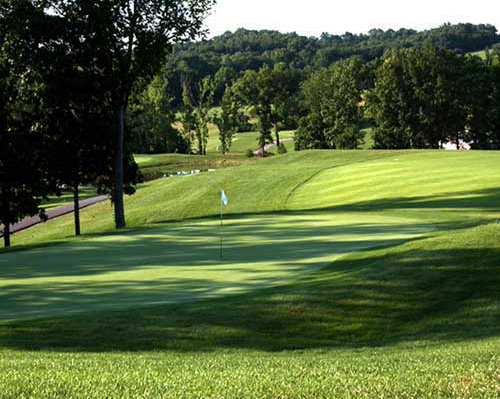 Hole Two – Par 5
This dramatic Par 5 is an risk/reward hole. The second shot is 260 yards from the edge fo the landing area to the center of the green and about 230 yards to carry the creek. The dramatic elevation change should be taken into account in your club selection.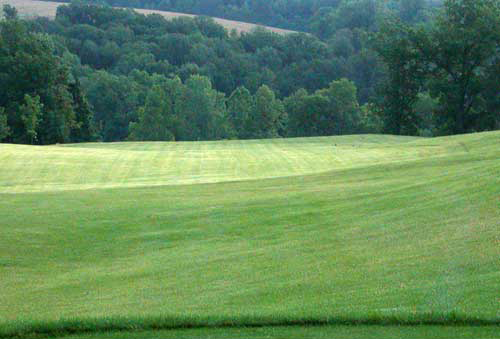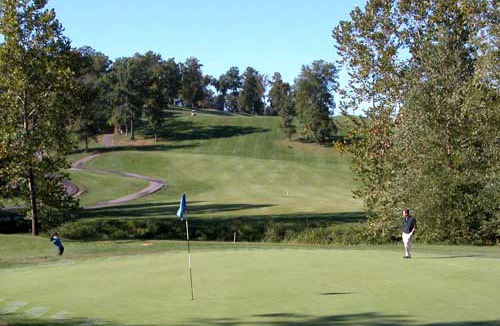 Hole Three – Par 4
This short Par 4 gives the big hitters an opportunity to drive the green, provided they can clear the trees. The safe play is to hit your tee shot to the 100 yard area. Hit two more clubs than normal. It is then a short iron to the green.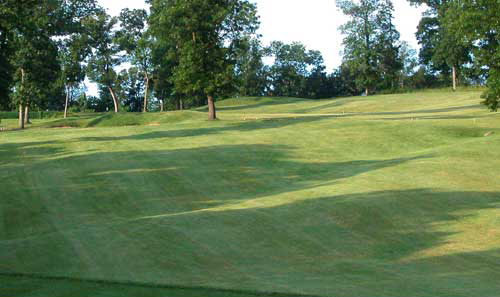 Hole Four – Par 4
This Par 4 requires a well-placed tee shot to the middle or slightly left of the center stakes. The best play is to position tee shot 125 to 150 yards from green. Big hitters could hit their tee shots through the fairway. A ball over the green or to the right will land on a steep slope.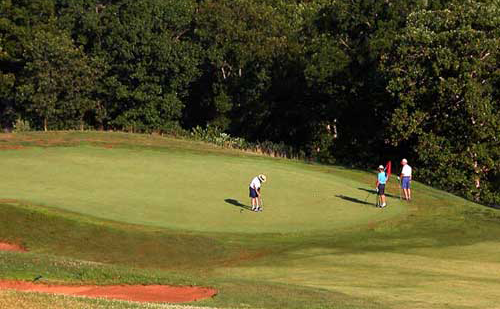 Hole Five – Par 3
Balls hit to the left side of the geren will funnel right. Avoid hitting the ball long and right.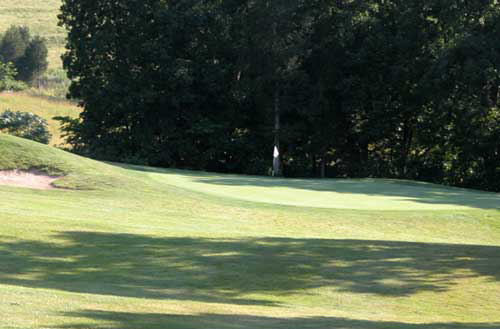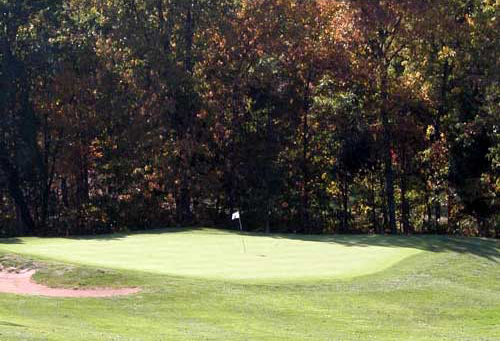 Hole Six – Par 4
Approach shot requires accuracy to the small, kidney-shaped green. Any ball long and/or left is wet. Best play is to land approach shot short and right of center of the green. Restrooms are available as you pass by the clubhouse on your way to #7 tee.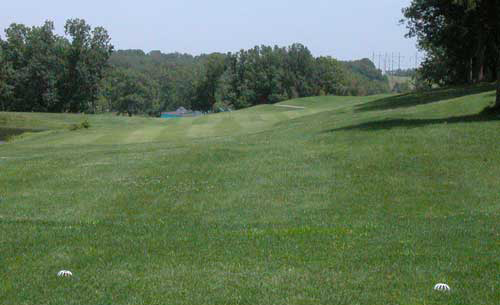 Hole Seven – Par 4
Avoid the bunkers to the left on this well-designed Par 4. Take an extra club on your approach shot and avoid missing the green long and right. Approach short and left will funnel toward green.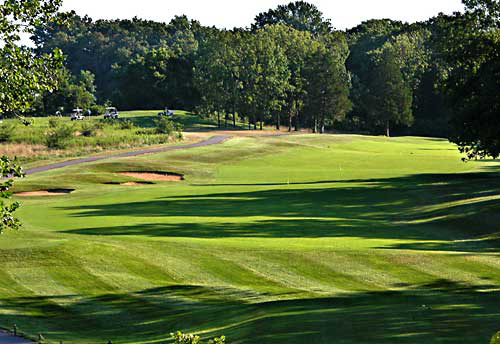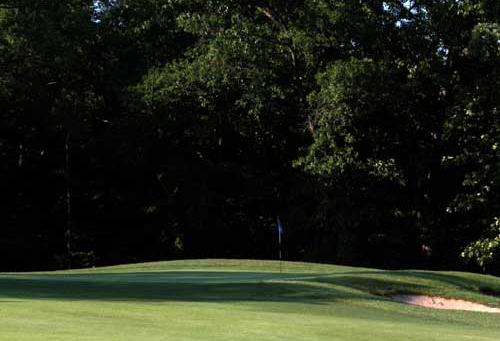 Hole Eight – Par 4
This long picturesque Par 4 is all in front of you, with O.B. stakes all down the right side of the fairway. Hit your tee shot left of the bunker. Again, approach shots long and right are trouble.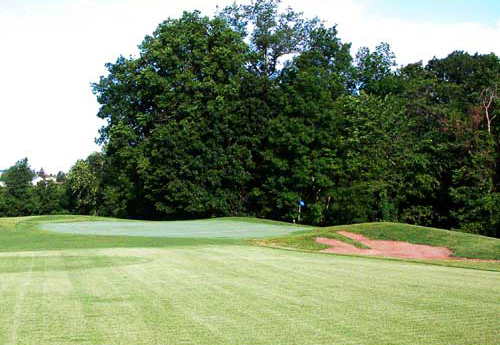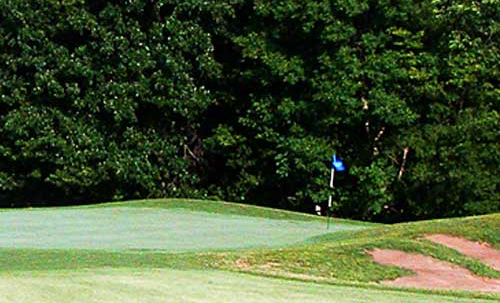 Hole Nine – Par 3
This difficult Par 3 requires a well-struck tee shot to clear the creek. Pay attention to the wind, as the flag may not be a good indicator . It is easier to clear the creek towards left side of green. Anything short is wet! Tough hole from the back tees!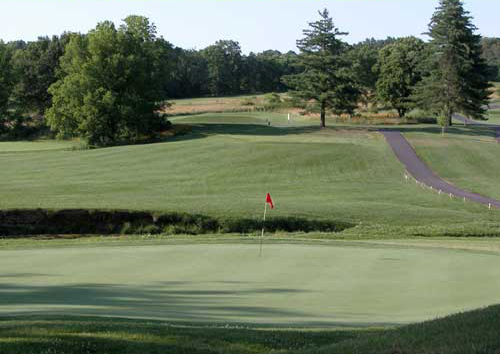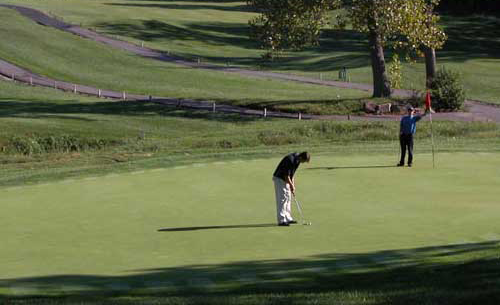 Hole Ten – Par 4
Favor the left side of this narrow fairway. Balls hit right are trouble.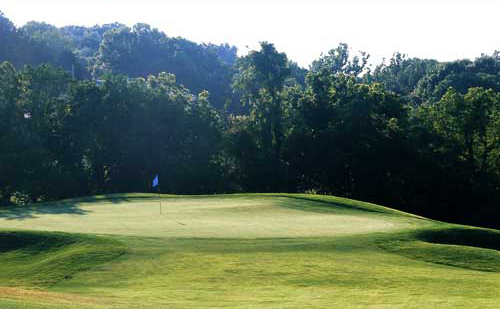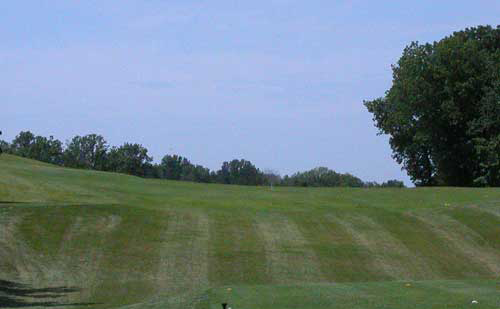 Hole Eleven – Par 5
Tee shot should favor left side of fairway. Take an extra club to get to a back pin placement. Avoid bunker front left of two-tier green.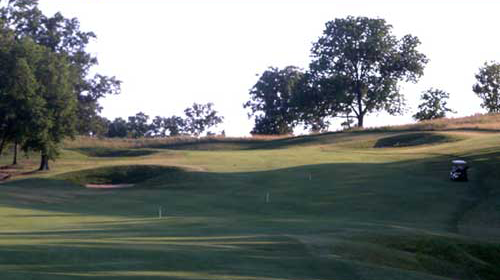 Hole Twelve – Par 4
Tee shot needs to stay right of fairway center. Ball will have a tendency to roll left. Golfers hitting tee shots too far left will have trees blocking their approach shot. Best to play approach shot right of pin. Left side of fairway is lateral hazard at tree line.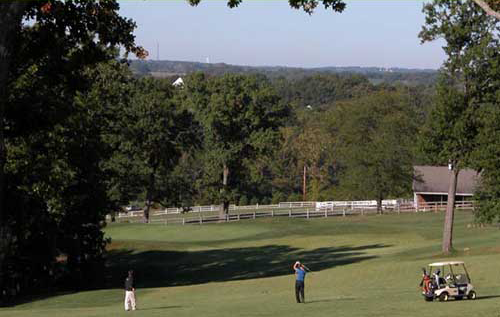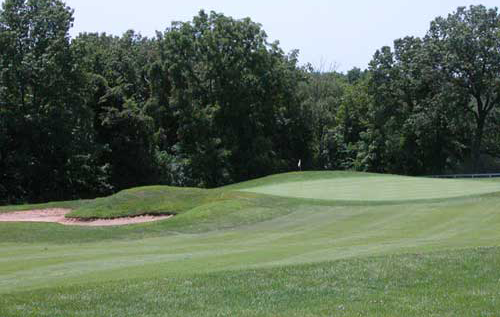 Hole Thirteen – Par 4
Best play is to position tee shot 100 to 150 yards from green. A well-placed tee shot should result in an easy approach shot to the green. There are O.B. markers left of the green.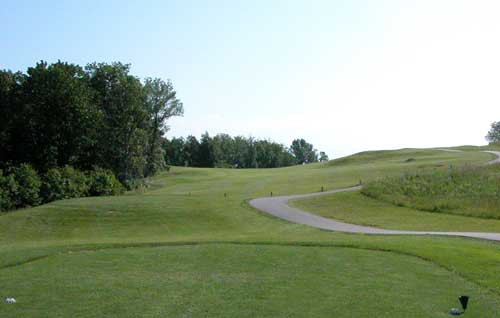 Hole Fourteen – Par 3
This Par 3 plays uphill and a club longer than it measures. Green slopes severely back to front. Do your best to keep the ball below the pin. Avoid the grass bunker left and short of the green.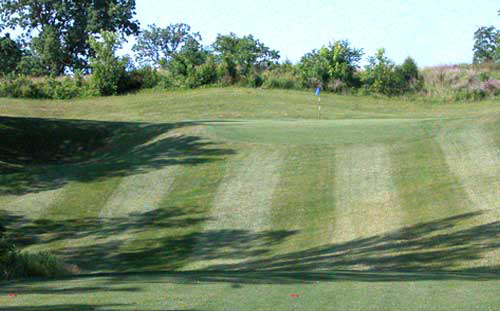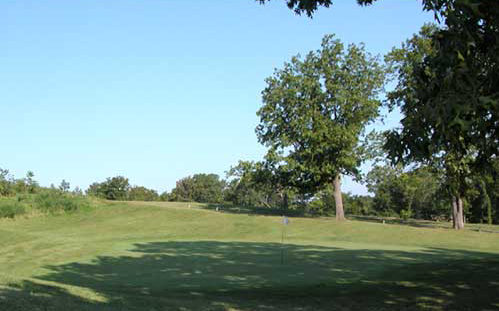 Hole Fifteen – Par 4
The first of four great finishing holes! Best target from tee is between the cart path and center stakes. Missing the green short and right is m ore forgiving than long or left. Restrooms are located between #15 green and #16 tee at the maintenance building.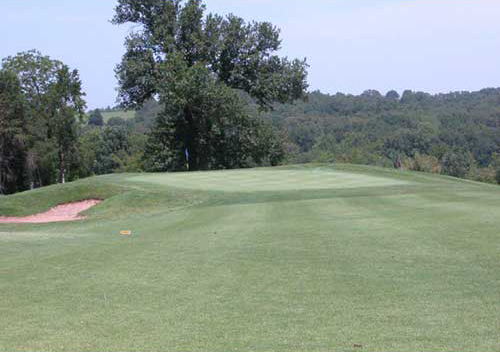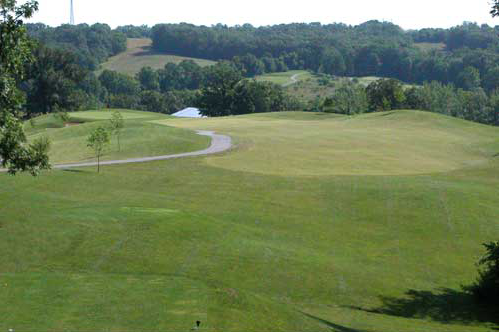 Hole Sixteen – Par 4
This uphill, doglet right Par 4 is the toughest on the course. It requires a big tee shot favoring the right side. A strong approach shot to this green, which slopes severely from back to front, is necessary. Best to keep ball below the hole.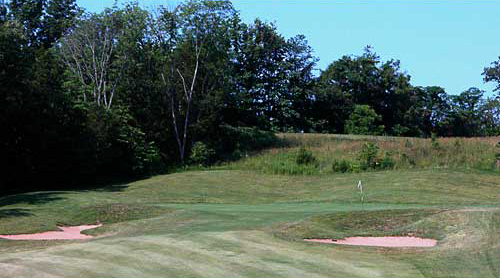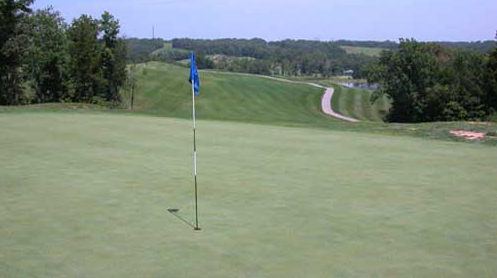 Hole Seventeen – Par 3
This tough downhill par 3 is 262 yards from the back tee! It's tight and demands a solid tee shot. There is a creek short right, as well as a grass bunker. There is a creek behind the green, so anything long is not good. Shots hit short left will get assistance from a hill and feed towards the green.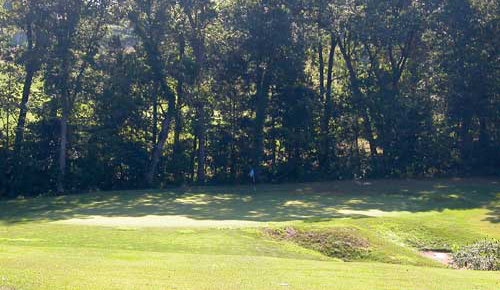 Hole Eighteen – Par 5
This short Par 5 is reachable for big hitters. Target line should be just right of the fairway bunkers on your left approach shot must find its way around the large tree on the right side of fairway. Safe play here is the left side of fairway. Long and left of green is trouble.